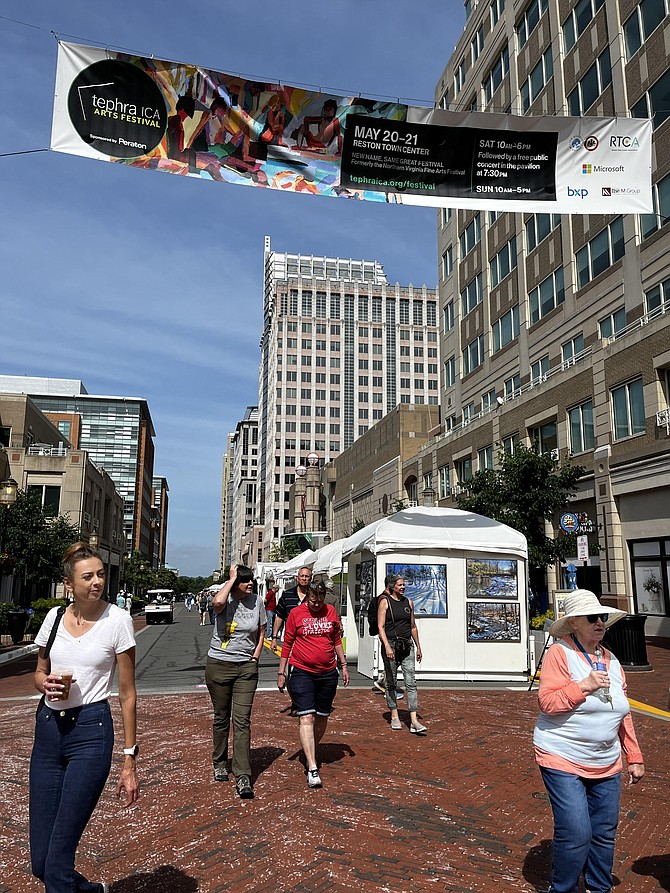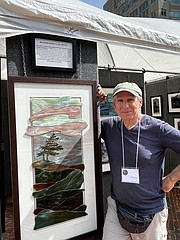 The Tephra Institute of Contemporary Art (Tephra ICA) had every right to party the weekend of May 20–21, Saturday evening at Reston Town Center. The staff and volunteers of Tephra ICA were in the midst of producing its 32nd Arts Festival, held on the closed inner streets of Reston Town Center. The two-day festival served as the organization's largest annual fundraiser, allowing year-round exhibitions and programs to be free and open to the public. 
Over two hundred invited contemporary artists and artisans from across the country displayed and sold their original handcrafted works of art at the festival. Hoesy Corona, a multidisciplinary artist, gave a featured performance. The festival has attracted approximately 30,000 attendees.
On Saturday morning, Richard Bond, a glass artist from Ottawa, Canada, stood amid a sea of white tents containing contemporary painters, potters, metalsmiths and textile artists. He utilized opaque, multicolored, sandblasted glass as his medium. His creative process employed neither automated nor computerized technology. In 2010, Bond felt privileged to have been chosen by the Canadian government to create artwork as gifts for world leaders attending the G-20 Summit in Toronto.
Festival-goers Zac Feight and Grace Fricke discovered one of Jeffrey Zachmann's kinetic sculptures while perusing the booths. To the delight of Feight and Fricke, when the sculpture was set in motion, it transformed into a study of captivating lines, shapes, and colors.
According to Jaynelle Clark Hazard, executive director and curator of Tephra ICA, Tephra employees, volunteers, and supporters toasted with champagne during the Festival Cocktail Hour and Awards Ceremony on Saturday evening, which also marked the institution's 50th-anniversary celebration.
Fairfax County Supervisor Walter Alcorn (D-Hunter Mill) presented a proclamation on behalf of U.S. Rep. Gerry Connolly, who had entered it into the Congressional Record. As planned at its 40th-anniversary celebration ten years ago, Tephra ICA established a more robust Fine Arts Festival, improved its gallery exhibitions, expanded its education programs, and collaborated with numerous other institutions to promote a greater commitment to public and performance art. The proclamation acknowledged Tephra ICA's contributions and congratulated the organization. 
The names of the ten recipients of the 2023 Awards of Excellence winners can be found at https://www.tephraica.org/festival-artists/c/2023-awards-of-excellence.
The Tephra Institute of Contemporary Art is located in Reston, Va., at 12001 Market Street, Suite 103.