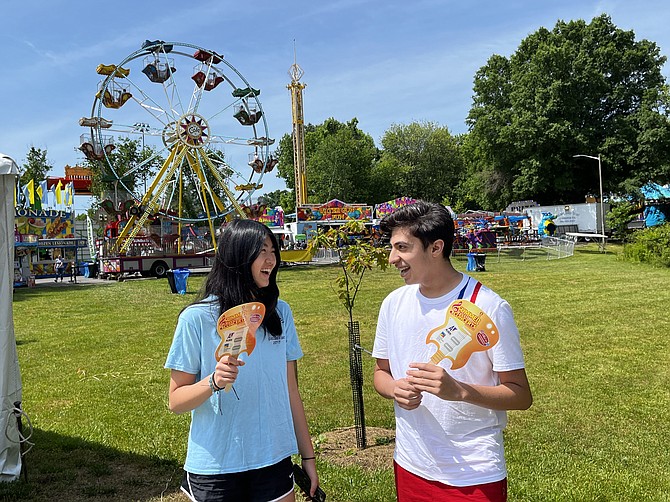 Preliminary 2023 MCC Governing Board Election Results
Fifteen candidates qualified for the McLean Community Center Board Election. On the Ballot- Adult, Small District 1A- Dranesville, three positions were open. In total votes, preliminary results, the top three adult candidates were Kathleen Cooney Porter (1,047), Gloria Marrero Chambers ( 729), and Katie Gorka (629).
On the Ballot- Youth Candidates, there was one position each for the Langley High School Boundary Area and McLean High School Boundary Area.
The top youth candidates, for the McLean High School boundary was Eleanor Ague( 103), and for the Langley High School boundary area, Sophia Bruno (111). 
McLean Community Center Executive Director Betsy May Salazar welcomed guests and dignitaries to the McLean Day 2023 festival's inaugural Opening Ceremony and Ribbon Cutting shortly before 2 p.m. on Friday, May 19, at Lewinsville Park. The MCC Governing Board and staff produce the yearly free community celebration which draws an estimated 10,000 attendees.
"This is the 108th McLean Day Festival. As one of the first community festivals to exist in Fairfax County (1915), it has a rich history that MCC is proud to continue," Salazar said.
McLean's largest annual festival would begin at 2 p.m. with T.G.I.F. Carnival Rides. Festivities Saturday included carnival rides, exhibitors, sponsors, food trucks, games, music and live entertainment on the community stage, and the MCC Governing Board election.
According to Governing Board Chair Barabar Zamor, the festival exemplifies MCC's commitment to supporting multiculturalism, diversity, and cultural richness in the community.
Del. Rip Sullivan (D-48) attended the opening ceremony. "Every year, it gets better and better and it's obvious already this year that it is going to be the best McLean Day. I didn't know the rides were open tonight. I'm going to call my grandchildren and get them over right away."
Chairman Jeff McKay (D) said they were all making history by cutting the first ribbon. He thanked everyone who helped make McLean Day a "great opportunity" for so many community organizations and people to come together and celebrate civic pride. "Pride in living in this community. That's what it's all about," McKay said.
MKay lauded MCC for its inclusiveness in bringing the community together for this event and all year. "This is one of the most important things they do every single year," McKay said.
The event was bittersweet for Supervisor John Foust (D-Dranesville). This would be his last time as the supervisor representing McLean at a McLean Day ribbon-cutting ceremony. He said that at the county and local levels, they are attempting to create communities that attract people," that really create a quality of life that is the place where people want to live, work, play and rest." Foust added that he looked forward to "post-supervisor being active with the community center."
On Saturday, Foust appeared to be enjoying himself at the festival. As he walked down the path past the petting zoo and toward the area with food trucks, Foust quickly remarked with a twinkle in his eyes when asked what he planned to do in retirement. "I'm not retiring; I'm rewiring."