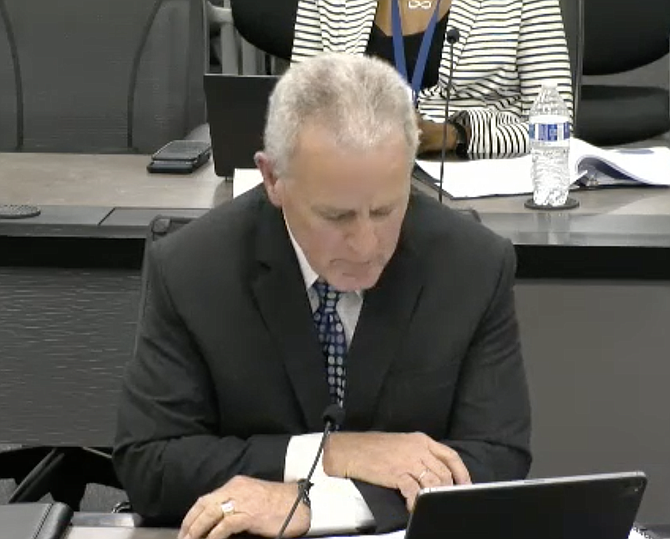 Equitable policing is, in part, an agency's policy and regulation designed to create unbiased and fair treatment of everyone law enforcement encounters. But how to get there can be complicated. Jurisdictions and police departments across the United States are struggling with how best to accomplish it. Fairfax County is no exception. 
On May 16, Phillip A. Niedzielski-Eichner, convener of the Police Reform Matrix Working Group, and Dr. Vernon C. Walton, senior pastor at First Baptist Church of Vienna, presented "Community Recommendations for More Equitable Policing in Fairfax County" to the Fairfax County Board of Supervisors Safety and Security Committee. Supervisor Rodney Lusk (D-Franconia), chairman, Supervisor James Walkinshaw (D-Braddock), vice-chairman, and all board members serve on the Safety and Security Committee. The proposed action plan by the Police Reform Matrix Working Group presented eight topics, from rethinking policing to independent oversight and more.
Lusk noted that the "Community Recommendations for More Equitable Policing in Fairfax County" would inform a series of presentations later this year. Fairfax County Chief Kevin Davis would have an opportunity to respond to the matrix group's recommendations.
Opening Remarks
Niedzielski-Eichner said when he chaired the Use of Force subcommittee of the Ad Hoc Police Practices Review Commission (2015), the board and police department followed the subcommittee's recommendations. Niedzielski-Eichner recalled in his presentation that rewriting use-of-force policies emphasized "de-escalation as a first response to provocation; giving officers access to tools less lethal than firearms; supplying and requiring body-worn cameras; and strengthening the use of force reporting and transparency."
The subcommittee realized it would be a mistake to declare "mission accomplished," Niedzielski-Eichner said, Other initiatives, such as this one, Community Recommendations for More Equitable Policing, should follow.
To set the stage for the upcoming "matrix" discussion, Walton said that when the country faced twin pandemics, Supervisor Rodney Lusk, chair of the Public Safety Committee, requested community input and police reforms. "We were wrestling with a major health crisis compounded by racial unrest," he said. Walton described the assassination of George Floyd, a Black man, by a white Minneapolis police officer. 
"This awareness and level of heightening sensitivity were felt here in Fairfax County," Walton said. He added that Black and brown individuals are more likely to experience a force disparity in arrest. Demographics of the population can reveal a pattern of "police behavior or racial profiling." 
"A dramatic rise in police shootings [in Fairfax County] over our ten-year average is cause for concern and warrants reflective conversation about the sanctity of life. Trust is paramount, and where there is an erosion of trust, it is difficult for a community to be its best self," Walton said.
Lusk explained that the ten members of the citizen-led Police Reform Matrix Working Group helped synthesize the more than 300-plus recommendations from the community compiled in the matrix. "The hope is that we will craft those into a set of policy recommendations," said Lusk.
He named the Working Group members:, Diane Burkley Alejandro, Sadaf Atashbarghi-Nehr, Dirck Hargraves, Prince Howard, Mary Kimm, Jennifer Lockwood-Shabat, Philip Niedzielski-Eichner, Convenor Adrian Steel, Eric Ubias, and Vernon Walton. 
Suggestions captured in the spreadsheet dubbed "the matrix" by Lusk and maintained by Fairfax County Police Department grew into a "cumbersome compendium" of over 300 ideas, according to Niedzielski-Eichner. They were reviewed and commented on by the police. The Working Group met to synthesize the matrix's recommendations into a proposed action for consideration by the Board of Supervisors.
The action plan recommended that the initiatives meet four criteria:
* Does it provide policy or program-level direction that can be acted upon by the board or the police chief?
* Is it a policy- or program-level initiative with the potential for significant positive impact?
* Is it evidence-based, which can include a member's lived experiences?
* Is it consistent with national best practices, or does it have the potential to become national best practices?"
Policing Use of Force
"The public, through the matrix, understands that historically, police have largely, by default, been tasked with being first responders when a behavioral health crisis arises … (This) criminalizes the affected population," Niedzielski-Eichner said. A summary statement on policing and the use of force calls for a rethinking of policing. It assigned non-safety responsibilities to clinical and social service professions, expanded Diversion First and co-responder programs, and identified and is open to other policing models.
The use of force policy and accountability is a work in progress, based on findings from the University of Texas at San Antonio (UTSA) and evaluated by Fairfax County's Use of Force Community Advisory Committee. "They warrant active reconsideration," Niedzielski-Eichner said, referring to an alternative standard to the "objective reasonable" standard.
"We recommend moving to a standard where the use of force must be, in principle, necessary and proportional," Niedzielski-Eichner said. "We recommend that pointing a firearm be considered and documented as a use of force." They recommended that the county implement key policy and program reforms, such as the de-escalation policies that are currently in place.
Walton noted that the Community Advisory Committee (CAC) and General Order 540 (2022) adopted several recommendations, but most still need to be fully implemented.
"Pointing a gun or any other threatening weapon should be a reportable use of force action and subject to review … . We're asking that the board direct that a foot pursuit policy be established with community participation," Walton said. A Fairfax County Police Officer shot and killed Timothy Johnson, an unarmed shoplifting suspect, during a foot pursuit  in Tysons earlier this year.
Oversight
Even though Fairfax County was among the first jurisdictions to establish a civil review panel, Walton said that "the panel is only as good as the authority the panel has."
"This body is responsible for the parameters of the panel. The community is asking, the committee is asking that you open the lanes … Give the civilian review panel independent investigating authority that is now permitted by the Virginia General Assembly," Walton said.
Police Officer Excellence
The Fairfax County Police Department's recent recruitment success, according to Niedzielski-Eichner, must be followed by the retention of highly effective officers. They must be held accountable for their actions, accept responsibility for the "total community," and have access to physical and mental fitness to perform their demanding jobs. He recommended conducting regular "customer survey audits" of police department personnel to facilitate dialogue between officers and supervisors.
Community Engagement
Research and national best practices support the benefits of authentic community engagement and the likelihood that a solution will be widely accepted, Niedzielski-Eichner said.
Most importantly, community engagement encourages the development of a trusting relationship. While the FCPD has designed and implemented numerous programs, more needs to be done, particularly to engage community members who perceive themselves to be marginalized. This policy would build on the One Fairfax policy.
"Engagement is how we build trust," Walton said. "People love to be heard, and there's a tremendous sense that many voices are not being heard."
Data
Although FCPD has made "great strides," as Niedzielski-Eichner stated, "current public data discourages year-over-year comparisons ... Standardized formats rarely include measures of disparate treatment among classes of community members." 
He said FCPD leadership "needs to be consistently careful about offering premature judgments or information about an incident that is either exculpatory outside the scope of an officer's behavior or judgmental about a person of interest due to previous law enforcement history."
Specialized Police Units
Following the recent shootings by Tyson's Urban Team officers, Niedzielski-Eichner said the community and CAC recommend looking at the FCPD's specialized units for their policy frameworks. The Working Group suggests that a subset with the greatest community interest be examined for value-impacted practices, particularly those affecting people of color.
Evaluating Program Progress
The fundamental questions, according to Niedzielski-Eichner, are whether the program is intended to improve policing in Fairfax County; whether it achieves the intended purpose(s); whether resources are well-allocated; and "what lessons are learned through the implementation that will make the program much better?"
Walton concluded his presentation by saying that he reluctantly agreed to participate in this process. "I didn't want to serve on another task force that would produce a body of work that would ultimately sit on the shelf without the possibility of becoming a living document," Walton said. He added that he came because of his belief in political will and that this body, the Board of Supervisors, has the political will to do what is right.
Walton said he felt compelled by moral conviction to present the document and the enclosed recommendations on behalf of Fairfax County residents, hoping that the supervisors would give it full consideration and eventually adoption. Walton said, "We respectfully ask that you are bold and courageous and do it without delay." 
Lusk said the board must allow Chief Davis to look at the recommendations and provide feedback. As for rethinking policing, they have been working hard to hire the mental health clinicians the county needs for the co-responder implementation. "This is a tough task," Lusk said. "We do have three of our four units up and running. So we need one more unit to cover the county."
Lusk said that they must work on training, de-escalation, and determining patience, time, and distance — all of which are critical to reducing the use of force.
They have been working with the civilian review panel under independent supervision and have hired an executive director and an assistant to that director to help them build out their infrastructure. The issue of granting the civil review board additional and expanded authority was raised by Lusk, and the board discussed it last year.
According to Lusk, transparency and data are critical. "If you want trust and accountability, you need to have transparency in the data … We can continue to make progress … This is a document that's not completed; it will continue to evolve over time and improve over time. I've read [recommendations] clearly and carefully and understand what the request is, and we will be working to bring back to this body the responses from the department and then the responses from this board."
Readers can access the video starting at minute 38:11 at https://video.fairfaxcounty.gov/player/clip/2890?view_id=9&redirect=true&h=aa406817dd910e9c28e63c0a2dedf8b7 and a text overview of the recommendations is available at https://www.fairfaxcounty.gov/boardofsupervisors/sites/boardofsupervisors/files/assets/community%20recommendations%20for%20more%20equitable%20policing.pdf.