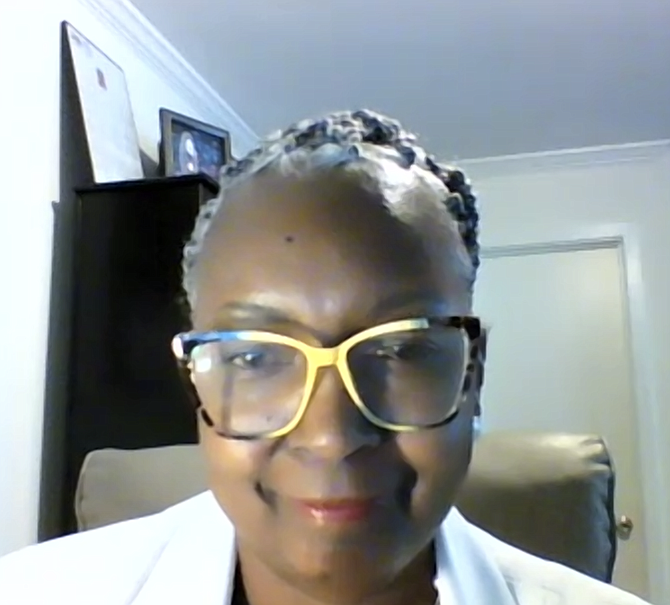 The Fairfax County NAACP invited the county's nine candidates running for non-partisan contested offices as Fairfax County School Board at-large representatives, Mt. Vernon district representative, and Hunter Mill district representative to its virtual candidate forum. 
Members of the organization's communications, education, and political action committees collaborated to bring the forum to the public to learn more about the candidates. Additionally, the organization would decide which candidates it would endorse. 
Michelle Leete, the president of the Fairfax County NAACP, and Sujatha Hampton, the education chair, moderated the forum. Hampton opened the sessions by saying Fairfax County had not been spared from the threats against school boards as seen across the United States.
In Fairfax County, school board members faced death and violence threats, hostile messaging, acts of intimidation, protests, and litigation because of their voting records. Much anger focused on pandemic-related school closures, the purported teaching of critical race theory, and the rights of LGBTQIA+ students and their parents.
Fairfax County Public Schools strengthened its security presence at school board meetings. Guards and police were present to maintain order and prevent disruptive behavior from meeting attendees. The current school board heard outrage expressed by speakers during the board's public hearings and heckling from bystanders. They witnessed the diminishing civility levels among their colleagues.
Nonetheless, the nine candidates for school board who participated in the forum appeared eager to be elected and serve. When running in the nonpartisan school board races, getting the word out about candidate platforms and gaining endorsements could make a difference to some voters.
The forum moderators asked similarly stated questions at each of the three sessions, although not all questions were asked in each session. Candidates responded in an alternating sequence. At the end, there were question(s) from the chat box and a candidate one-minute wrap-up.
"Our mission is to achieve equity, political rights, and social inclusion by advancing policies and practices that expand human and civil rights, eliminate discrimination, and accelerate the well-being, education, and economic security of black people and all persons of color," Karen Campbell, the political action chair, said. "So the focus of our questioning today is what the candidate will be able to do if they are elected … How will they be able to govern in accordance with the NAACP?"
The following candidates are not contested and are the Fairfax County NAACP's endorsed school board candidates for this year: Braddock District: Rachna Sizemore Heizer; Dranesville District: Robyn Lady; Franconia District: Marcia St. John-Cunning; Mason District: Ricardy Anderson; Providence District: Karl Frisch, Springfield District: Sandy Anderson; and Sully District: Seema Dixit.
These candidates are endorsed by Fairfax County GOP: Cassandra Aucoin (At-Large); Saundra Davis (At-Large); Priscilla DeStefano (Braddock District); Paul Bartkowski (Dranesville District); Harry Jackson (Hunter Mill District); Kristin Ball (Mason District); Stori Zimmerman (Mount Vernon District); Tony Sabio (Providence District); Debra Tisler (Springfield District); Cindy Walsh (Sully District)
Virginia does not allow party labels in school board races. Candidates for these seats must run as independents and cannot be identified with party affiliation on the Commonwealth of Virginia election ballots. However, non-partisan candidates can be 
endorsed
 by party affiliation Members of the 
FairfaxGOP 
endorsed its ten FCSB candidates on April 19. The Fairfax County Democratic Committee (FCDC) is holding its 2023 Democratic Endorsement caucus for School Board. Online voting started May 13 and ends May 20, 2023, with in-person voting on May 20, 2023, at locations listed on the committee's 
website
. To vote in the caucus, voters are required to register with the FCDC.