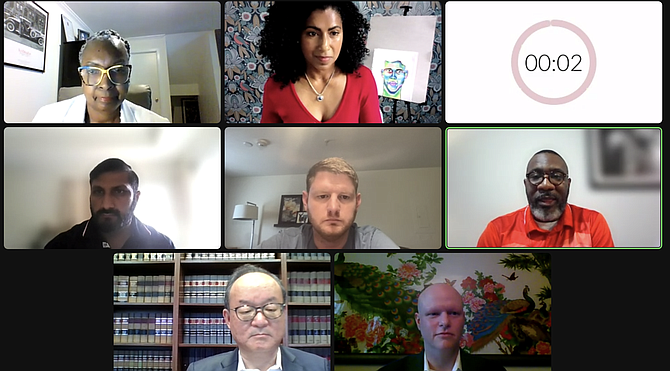 The Connection lightly edited questions and answers for clarity and space. To view the Zoom sessions, visit https://www.fairfaxnaacp.org/upcoming-events/ and search the candidate forum.
The following are highlights of Session 1 of the Fairfax County NAACP Virtual School Board Candidate Forum held Saturday, May 13, featuring Fairfax County School Board at-large candidates Lawrence Webb, Ilryong Moon, Kyle McDaniel, Hamid Munir, and Ryan McElveen.
Candidates at large who did not participate: Linda Ann Pellegrino, Cassandra Aucoin, Saundra Davis, Ahmed Hussein, Chris Lewis.
REDISTRICTING:
Will you support districting to allow students to attend schools in their communities?
Kyle McDaniel: I'm a big fan of community schools. We have opportunities to bring in wraparound services that feed into a host of other policy sectors as well. We are going to have to look at countywide global boundary adjustment because we're starting to run out of building capacity.
Ilryong Moon: Boundary decision processes bring a lot of people into auditoriums and gymnasiums, thousands of parents, community members, and students who are concerned about their future. Perhaps not on a countywide basis because that is more difficult to make, but I'd rather go on a regional basis first and decide what to use as criteria for boundary adjustment proximity.
Ryan McElveen: I've watched as development decisions have been made throughout the county, which has frustrated me. These decisions have led to stark divides between haves and have-nots in our communities … leading to what we call socio-economic tipping points in which some of our schools and communities have a greater strain on services than they can provide. I support redistricting so that communities can be together in the school … and not be bussed for hours.
Lawrence Webb: Schools, particularly in the Mount Vernon and Franconia area, need to be addressed. We need to look at it location-wise, that students should not be bussed to school when they have a school literally around the corner from them… many times, it's those marginalized students and communities that are most impacted.
Hamid Munir: I will support boundary changes because I've seen the inequity. It's not just by region but also throughout the county. Why? Because I think when it comes to that, it is also a question of affordable housing. I firmly believe that strategically there are some people who are placed into a certain side of the county, and that's not fair. We need to have affordable housing throughout the county, and we need to make sure that the boundaries are addressed to our county as well.
ADDRESSING LACK OF EQUITY:
Focusing on equity and academic access, how might you address the enormous differences within districts and pyramids related to disparities and offerings for after-school enrichment, access to AP advanced mathematics, and IB?
Ilryong Moon: The opportunity gap starts from home and starts from the early years, so we need to expand our pre-K program beyond the current approved budget. That's 180 students out of close to 2,500 students who had indicated that they had not received any pre-K service. That pace has to be accelerated.
Ryan McElveen: FCPS Advanced Academic Program's strengths are rooted in its recognition as an international model for gifted education with a robust curriculum and strong pedagogical practices. But it's also weak in that the robust curriculum and practices have not been extended to all the classrooms in the school system. It's left some students behind. I've been a strong voice for expanding the AP curriculum and practices to all of our schools.
Lawrence Webb: I will work hard to make sure these programs are spread across the county. We see disparities in opportunities in certain areas of the county. We also need to expand working with the Board of Supervisors to get the funding that we need to make sure that pre-K is available to as many county residents as possible.
Hamid Munir: Every child needs to feel valued, nurtured, and seen in our schools, no matter if you are new to our country… from historically underrepresented communities, struggling with learning a new language, a member of the LGBTQ community, or a student with disabilities. All students must feel welcome and included in our classrooms and extracurricular programs and have the opportunity to participate in advanced academics and specialty programs, regardless of where they live.
Kyle McDaniel: First thing is identifying the problem, identifying the gaps, identifying what has to be fixed, and that's not as easy as it sounds. It's got to be data-driven. It's got to be fact-based, and it's got to be in conjunction with the communities and stakeholders like this group. After that, it boils down to resource allocation issues. This requires stakeholder input. This type of policy development is never going to be a silver bullet. Following is a long-term initiative process. Simply- we've got to find the problem and fix the problem; go back and make sure that what we put in place is addressing the problems that we've identified, and that takes making sure this is part of the strategic plan.
INTERSECTIONALITY:
Speak to the challenges of supporting students' intersectionality; for example, through the challenges to the book and library collections and access to materials, how it threatens the LGBTQ-plus community. But there is an intersectional threat to the BIPOC population (Black, Indigenous, People of Color) as well, whose literature so often includes themes of sexual violence or abuse due to the history of this country and so many things like that.
Lawrence Webb: As someone who grew up within the LGBT community … many times living in the closet, I will be the first to say that I appreciate seeing what our LGBTQ students today are able to do, living their lives, and being who they are at such a young age. I will always be an advocate for the students making sure that they continue to do that, making sure books and other things are out there for them to be able to learn how to express themselves. I will always protect them and make sure I will be the first person protecting them in the buildings and making sure they have the facilities that they need to identify with going to the bathroom as well as locker rooms.
Hamid Munir: I come from a community that's often marginalized. I know how important it is to support marginalized communities such as LGBTQ. I will fight to protect the rights of every student and staff to be part of our community, allowing them to be their authentic self and see themselves in our curriculum and our library, and ensure that every child is treated with dignity. 
I believe that if bigotry against one group is allowed, it will spread to the others. As Democrats, we need to stand up to bullies.
I will work with the superintendent to ensure students' pronouns are respected, private spaces are available in restrooms and locker rooms, and correspond to gender identity.
Kyle McDaniel: I think one of the problems we have is that people don't feel comfortable coming forward. We have to create this environment because we're such a massive system. It's very difficult sometimes to find some of the bigotry that exists if we don't know that it exists. We must encourage intersectionality to be talked about; encourage it to be discussed with the LGBTQ community. Specifically, we don't recognize the LGBTQ community.; we celebrate the community.
Ilryong Moon: I was the one in 2014 (serving on the school board) who motioned to include sexual orientation as part of our nondiscrimination policy. In 2015, I seconded Mr. McCabe's motion to include gender identity as part of the nondiscrimination policy, standing strong against any hostile cry in meeting after meeting… (We) need to do a little better job in educating our grown-ups.
Ryan McElveen: I have a long history of making sure that gender identity and sexual orientation are respected and welcomed in our school, from policy to regulation. When we talk about LGBTQ students of color, it's right to say they're at particular risk. I would also add that there's intersectionality there with students from those backgrounds that are also disabled … We need to look at studies that have been done, for example, the Trevor Project. I know that this can be addressed with mental health support. We need, in Fairfax County, a higher number of mental health professionals who have a focus on the needs of the LGBTQ community in particular.
COLLEGIALITY:
How will you balance the need for good governance and collegiality; they need to do good work that supports the needs of our most educationally and economically vulnerable children, as well as those of our most privileged and active stable children. It seems there are two needs here, often at odds with the current board.
Ryan McElveen: The current political environment has fostered instability…It's critical we have a board that works together. My experience has shown that I am a strong team player, with my colleagues working to make sure that we're battling civility for the entire district. And frankly, we are not doing enough to work in the curriculum to teach those values. You've seen after the pandemic backsliding. We need to work on teaching students how to behave in public which they haven't been exposed to during the pandemic.
Lawrence Webb: We need a board that works together, and one of the first things for whoever walks away with these endorsements is we all need to come together to begin the process of getting to know one another and working together. It's going to be a team effort to move forward into November. As chair of the school board of the City of Falls Church, I came into that role because of some of the very challenges you're talking about. I have a reputation for being a person who listens and works well with others. I took that role very importantly and led the board to better regain the public trust.
Hamid Munir: It comes from experience. I have experienced the same thing on multiple boards. If you see my résumé, I've done it several times. Get to know people, work with people. If you don't agree with something, there's a simple way of bringing information and voting on it properly.
"Robert's Rules" (and) civility go hand-in-hand. We need to make sure that all of our board members are aware that diversity is not just by culture or color. You need to have a diversity of professions as well.
Kyle McDaniel-.Teamwork. I've said in the hundreds of opening statements I've given it boils down to teamwork. It boils down to collaboration and congeniality not just amongst each other, which is critical, but with the public, staff, teachers, and parents. Because this cuts across a host of different relationship channels. If we're not professional, and we're not collaborative, and we're not congenial, that's going to lead to credibility issues that are going to lead to some of the issues that this past board has been challenged with. We are all grumpy after Covid … Let's give each other a little bit of grace, a little bit of dignity, and some breathing room. By treating others with a little more respect, we're going to get a lot farther. That's the goal.
Ilryong Moon: I don't want to speak ill of the current board; I'm focusing on the next board. My three years of experience as chairman of the Fairfax County school board, 20 years of experience on the board, (and) for a number of years I was on the minority side … As long as you respect everyone on the board and what they are doing is for the best interest of the students and do not take anything personally, we can bring back civility. I am a listener; I am a uniter.