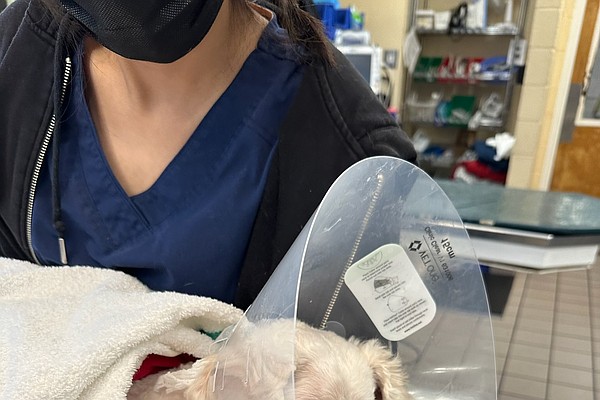 Wednesday, November 9, 2022
It could have been any of us, enjoying the pleasures of walking our dogs on a nice Fall evening. But for one Fairfax County woman, this simple act ended in tragedy. Fairfax County animal shelter director, Reasa Currier said, "These are the calls you never want to get … a woman was walking in her neighborhood with her two beloved dogs and was hit by a car. The driver kept going and left one dog dead and the woman and her other dog seriously injured."
The woman was taken to a nearby hospital in critical condition the evening of the accident on Oct. 24. Her injuries forebode a long recovery. Her daughter soon started a Go Fund Me to help deal with her care for broken ribs and sternum, multiple skull fractures and lacerations on the back of her head. The extent of her brain injuries were not immediately known.
Her injured dog, Bruno, was taken to Pender Veterinary Clinic in Fairfax. The Fairfax County shelter and their supporting Friends group immediately made pleas to the public for assistance with costs of Bruno's veterinary care to treat a leg fracture, swelling and abrasions.
The community responded. At this writing, donations of nearly $30,000 were made to assist in the woman's treatment and recovery. The public also rallied to assist Bruno, contributing an amount in excess of the costs of his treatment. Friends group president, Evelyn Grieve, says "Our animal loving community helped us raise over $8,000, which will not only help Bruno, but it will help other pets in need."
Go Fund Me is a for-profit fundraising platform. It provides a safe and secure way to advertise and receive donations for a variety of needs, causes and projects. The company charges 2.9% plus a small service fee for each donation. 
The FCAS Friends group supports the non-profit "Finnegan's Fund" and other efforts, which ensures that Bruno and other pets in critical condition can receive lifesaving care. Adds Currier, "Thank you to 
Friends of the Fairfax County Animal Shelter
 for stepping in to pay for Bruno's medical bills. We're doing everything we can to save this little dog, so his mom has something to look forward to during her recovery."