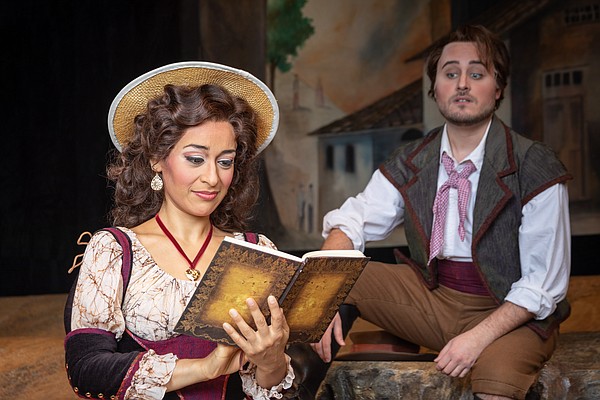 Friday, February 15, 2019
Time for some lightening up, courtesy of the Virginia Opera. The comic opera "The Elixir of Love" by Gaetano Donizetti will be bringing a plentitude of remedies for the February cold. "Elixir" is an operatic romantic comedy about the pursuit of love with help from a very special tonic.
Donizetti's charming "The Elixir of Love" is performed in the bel canto opera style in which expressive voices transport the audience into a bubbly, vibrant tale of comedic misunderstandings and endearing characters.
What is "The Elixir of Love" about? It is centered upon a shy peasant named Nemorino, who is secretly enthralled with a rather feisty socialite, Adina. Alas, Adina has her eyes on a dashing military man, Sergeant Belcore. Nemorino decides a love potion is his best hope to win over Adina. He uses his paltry savings to purchase a special potion from a very skillful traveling salesman named Dulcamara.
Nemorino is convinced the potion is magical and will make Adina fall in love with him. But, will the elixir help love find its way? Will the path to love be simple?
Directed by Kyle Lang, "The Elixir of Love" features sumptuous arias, beautiful musical melodies and scenes with rapid-fire comic pattern. Adam Turner, Virginia Opera's artistic director will conduct the Donizetti score. The opera features one of the more celebrated tenor aria, "Una furtiva lagrima." ("a furtive tear"). In the song Nemorino vividly recalls a tear on his beloved Adina's check; he convinces himself that she loves him.
The cast features Cecilia Violetta López named a rising star by "Opera News" as Adina. Recent winner of the 2018 Metropolitan Opera National Council Auditions, tenor Carlos Enrique Santelli makes his Virginia Opera mainstage debut appearing as lovelorn Nemorino. Bass-baritone Matthew Burns is Dulcamar the animated purveyor of the magical love potions. Corey Crider sings the role of the dashing military man Belcore.
In an interview, Burns, originally from Richmond and a graduate of Virginia Commonwealth University, discussed his character of Dulcamar as not unlike a traveling salesman selling "the virtues of a dark looking drink as a cure to fix anything." When singing rapid fire comic songs his character Dulcamar is like "a modern day rapper, able to rattle off lyrics and names in quick seconds."

"The Elixir of Love," is one of the most performed operas worldwide. Visit the Virginia Opera production to enjoy its happy endings.
Where and When
Virginia Opera presents "The Elixir of Love" at the George Mason University, Center for the Arts, 4400 University Drive, Fairfax. Performances: Saturday, Feb 16, 2019 at 8 p.m. and Sunday, Feb 17, 2019 at 2 p.m. Tickets: $110, $90, $54. Call 888-945-2468, or visit www.cfa.gmu.edu. Note: Sung in Italian with English subtitles. A pre-performance discussion featuring "Dr. Opera," Glenn Winters, begins 45 minutes prior to the performance.