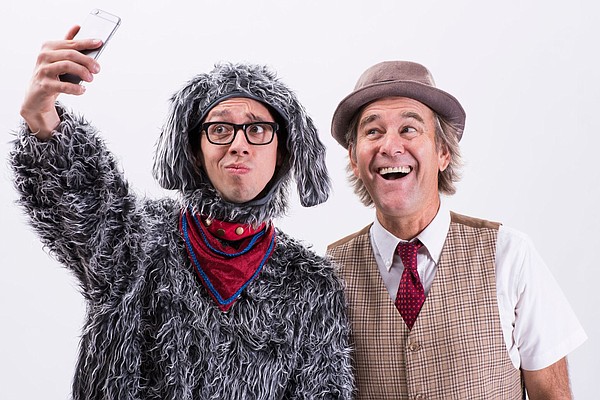 Monday, November 19, 2018
Listening to parents in the local area, the Center for the Arts (CFA) introduced a new Family Series of performances meant for all ages; but especially children. The Family Series aims to provide lively and engaging programs for families to explore live performance together.
On the Thanksgiving Holiday weekend, the Family Series will headline "Mutts Gone Nuts," a blend of physical comedy and circus arts for families and for everyone who loves a dog. "I think audience members can expect to be blown away by what these dogs can do. This will be a high-energy show, where award-winning canines perform a variety of entertaining tricks and routines," said Adrienne Bryant Godwin, Programming Manager, George Mason University, CFA.
"Many longtime CFA patrons told us how excited they are to be able to share their love of the arts with their family," said Godwin. "If you're looking for an entertaining and cost-effective way to spend the afternoon with your family, 'Mutts Gone Nuts' is for you. Be forewarned, you'll fall in love with these pups!" said Godwin.
For "Mutts Gone Nuts," the husband and wife duo Scott and Joan Houghton will bring a dog-centered show full of Frisbee and barrel tricks, to dance and jump rope routines. The talented canines were rescued from shelters. The Houghtons use positive, reward-based training methods for the dogs. "We look for what our dogs like to do naturally, and cultivate those talents."
According to the Houghtons there are even two world record holders performing. Feather, a greyhound, set the standard for highest canine jump and cattle dog mix Geronimo holds two world records in double-dutch jump rope.
In addition to the performance the audience will have the opportunity to have a picture taken with one of the "cast member" pups and at the same time support a local organization, Homeward Trails Animal Rescue in Fairfax Station.
"The Family Series at the Center for the Arts is a great opportunity to serve the family population in Northern Virginia looking for high-quality artistic and educational activities to experience together." said Godwin. "In addition to parents and children, the Family Series is a great way for grandparents to spend time with their grandchildren.

"Our Family Series has been received with warm enthusiasm, and we at the Center for the Arts look forward to programming it for future years," added Godwin.
Center for the Arts presents "Mutts Gone Nuts" at George Mason University, Concert Hall, Center for the Arts, 4400 University Drive, Fairfax. Sunday, Nov. 25 at 1 p.m. and 4 p.m. Tickets: $18 for adults/$10 for children. Call 703-993-2787 or visit www.cfa.gmu.edu.