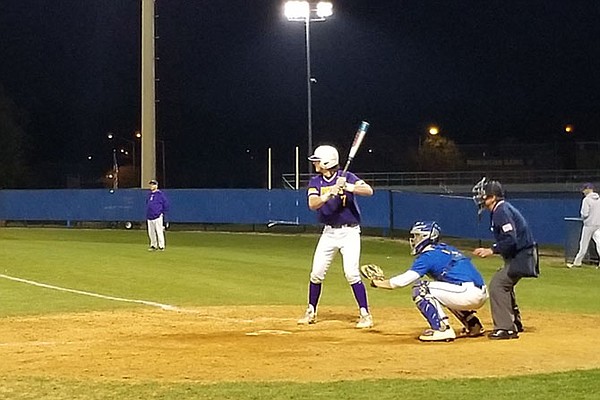 Thursday, May 3, 2018
Robinson starting pitcher Hugh O'Hara had his way with the Lake Braddock lineup early in Monday's Patriot District matchup, no-hitting the Bruins through the first three innings.
In the top of the fourth, however, Lyle Miller-Green and Jack Darcy reminded onlookers why Lake Braddock is a state championship contender.
Miller-Green drove in the game's first run with a double and Darcy followed with a three-run homer, propelling the Bruins to an 8-1 victory over the rival Rams on April 30 at Robinson Secondary School.
The left-handed O'Hara struck out the side in the second and pitched a 1-2-3 third inning before running into trouble in the fourth. After back-to-back walks, Miller-Green doubled to deep left before Darcy launched a 1-2 pitch over the right-field fence.
"We made some adjustments the second time through" the lineup, Lake Braddock head coach Jody Rutherford said. "We've done a good job of that this year."
Darcy said it was a curveball that he deposited over the fence.
"I definitely think it was a big momentum swing," said Darcy, who will play football at Shepherd University next year.
Darcy drove in a run in the fifth inning with a sacrifice fly. He finished 1-for-3 with a home run and four RBIs.
With Lake Braddock leading 5-1 in the top of the seventh, Miller-Green launched a three-run homer of his own. The junior went 2-for-4 with a home run and four RBIs.
Miller-Green, who is committed to Virginia Tech, also pitched two innings of relief. He allowed one run on one hit and struck out three after battling an arm injury earlier in the season.
Lake Braddock starting pitcher Connor Glynn earned the victory, tossing five shutout innings.
"Connor did a really good job pitching," Miller-Green said. "Since he kept [Robinson scoreless], we had his back."
On Tuesday, the Bruins defeated Fairfax 7-6 to improve their record to 14-3, including 8-0 in the district. Lake Braddock will travel to face West Springfield at 6:30 p.m. on Friday, May 4.