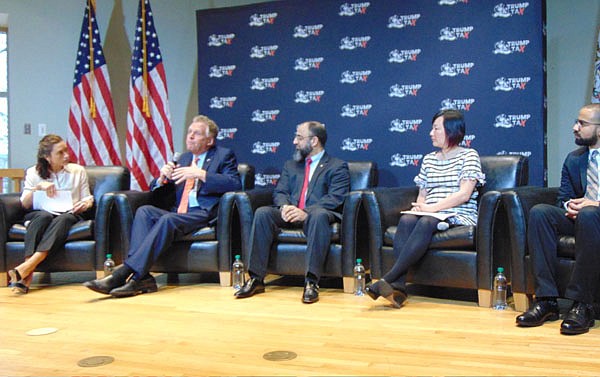 Friday, April 6, 2018
Former Virginia Gov. Terry McAuliffe headlined a Trump Tax Town Hall Meeting on Tuesday, March 27, 2018, in front of George Mason University students with a panel of four local business leaders. The panelists offered explanations of how Trump's new tax law will affect Americans and what they can do about it. McAuliffe, the former Democratic National Committee Chairman, is now a visiting professor at GMU's Schar School for Policy and Government. He also ran Hillary Clinton's 2008 presidential campaign.
McAuliffe said it's the consequences of tax cuts that are the most damaging. "It's going to really wreak havoc on health care, wreak havoc on education, going to affect Medicare, Medicaid, Social Security," he said. "This was the worst piece of legislation I have ever seen passed by Congress and signed into law by the President. It is going to cripple our government going down the road. It is going to starve our vital resources and instead of investing in our future, it's going to hurt our future."
He added: "What they (Congress) did was they rushed this at the end of the day in the middle of the night because they had no legislative successes. Trump had been finishing up a year in office with nothing to show for it. So, this was a political play. But I'll make the argument they are going to pay a political price for this."
Kara Kline, president of the George Mason Democrats, who opened the talks, said: "The Trump tax will be a disaster nationwide. The tax plan recently passed by Congress will cut taxes for our country's wealthiest individuals and corporations while simultaneously ignoring those who need help the most."
She continued: "Instead of helping those of us who are trying to afford an education, Congress is looking out for the millionaires and billionaires of this country and that is wrong. This tax plan raises taxes on 100 million American families, which equals more than half of our entire country. Yet, somehow the top 0.1 percent will receive tax cuts of $150,000 a year, and that doesn't sound fair to me."
MODERATOR Nicole Gill, Executive Director of Tax March, said one of the ways the Trump tax harms families is by taking away their health care. She said the Congressional Budget Office estimates that 13 million Americans will lose health care as a result of the tax bill.
Marta Connor of Clifton, whose daughter Caroline, 8, has Rett Syndrome, a neurological condition that requires around-the-clock care thru Medicaid, added: "She can't walk, talk, or use hands and also has seizures. Her condition requires hours of daily treatments and interventions and costs several hundred thousand dollars per year."
She continued: "The Trump tax bill hurts the Affordable Care Act. The plan was to cut Medicaid to finance the $1.5 trillion Trump tax bill. So, let me be clear – Republican members of Congress are taking away my daughter's lifeline in order to give tax cuts to big corporations and millionaires. Now, how is that fair?"
Anna Chu, Vice President for Strategy and Policy for the National Women's Law Center, said that by the year 2027, actually 83 percent of the benefits from this bill would go to the very top earners in the U.S., and at the same time, they're increasing the deficit by $1.5 trillion.
Calling the bill a "trickle-down nightmare," Chu said: "I'm going to posit that what workers actually need and what families need is a wage increase. Our bills are going up every year. Our rent is going up every year. College tuition is going up. I have a kid and childcare is extremely expensive. And that's going up every single year. So, what we need to feel secure is the promise of a wage increase that we will get year after year after year."
Muneer Baig, SYSUSA Small Business owner, added: "Who is benefitting from this [tax bill]? It's not me. …The system that we are creating out of this tax bill is not helping the middle class. It's not helping the small businesses. It is slowly killing the middle class and small businesses."
TAKING A QUESTION from the audience on "What specific actions can people do now to change or repeal the Trump tax as it's written?" Emmanuel Nieves, Prosperity Now Senior Policy Manager, said: "Attending events like this is one thing; being parts of organizations like Tax March – like the Trump Tax repeal campaign. Holding your elected officials accountable; going to Town Halls. ... And showing up at the polls in November."
Added Chu: "I think the members of Congress need to hear from us. They need to hear from you that this is an issue that you care about – that you want them to care about. So, call your member of the House; call your Senators to keep on fighting. Keep calling and 'Remember in November.'"