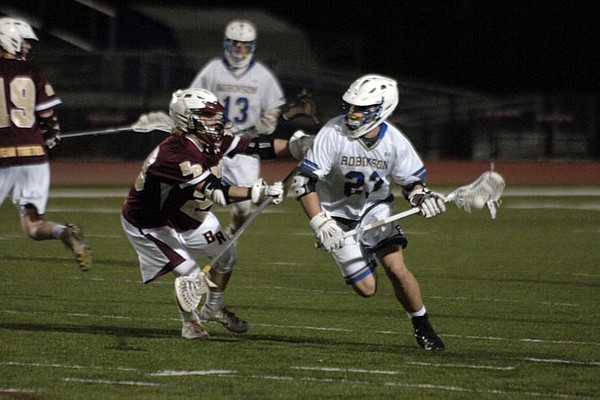 Wednesday, March 16, 2016
Members of the two-time defending state champion Robinson boys' lacrosse team sat quietly at one end of the Coffey Stadium field during halftime of their season opener Tuesday night when they were greeted by the sound of reality.
Visiting Broad Run led 5-4 and the Spartans let the Rams --- and others in attendance --- know it, confidently cheering at the other end of the field.
"We just weren't really into it and we snapped into it once we realized that they're up," Robinson senior attackman Johnny Daniel said. "When we hear them yapping it up over in the corner of the field ­­­ that's our field. You can yap all you want, but it's Coffey Stadium [and] we're defending our field."
The Rams woke up in the third quarter, outscoring Broad Run 7-0, and Robinson pulled away for a 14-7 season-opening victory.
Once Robinson got going in the second half, it didn't take long for the Rams to gain separation.
Five different Rams scored a goal during a 3-minute, 39-second stretch in the third quarter, taking Robinson from a 5-4 deficit to a 9-5 lead. Daniel and freshman attackman Declan Connolly each scored in the final minute of the period, extending the Rams' lead to 11-5.
Robinson led by as many as eight goals, when senior attackman Tristan Scoffield gave the Rams a 14-6 advantage with 1:04 remaining in the fourth quarter.
"I'm extremely happy with the way we responded in the second half," Robinson head coach Matt Curran said. "With a young team, you're in that position maybe for the first time and you're not sure exactly how they're going to respond."
Eight different Rams scored at least one goal. Senior midfielder Austin Henry and freshman Connolly each scored three. Junior attackman Liam Curran and Daniel each scored two goals, and sophomore midfielder Reid Scarborough, junior midfielder Tyler Iriondo, sophomore midfielder Nick Rowlett and senior Scoffield each had one.
Junior goalkeeper Matt Bethard had eight saves.
Robinson enters the 2016 season with a talented roster, but the Rams have new players transitioning into leadership roles after graduating several prominent athletes from their back-to-back title runs.
Curran said Robinson still has high expectations, but the loss of experienced players means the Rams aren't as far along when it comes to implementing strategy.
"It doesn't matter what year it is and what kind of talent we have, our expectations every year are to win the state championship and I think that's how it should be," Curran said. "Do we take them along slowly? Yeah, we do. Last year, we had a ton of starters back so we could get into things that we were running the year before right away and some of these guys ... are learning it for the first time.
"... We don't have Jack Rowlett or Chapman Jasien or Jude Buckholz or Chris White, guys like that that were three- and four-year starters, anymore. Those guys are gone, so you guys ­­­ Austin Henry, Johnny Daniel, [senior midfielder] Danny Krug, [senior long stick midfielder] Eric Scales ­­­ you guys have to step up and they did. They responded. Just like anything, they're going to have to learn to be the guys, the captains, the leaders. They know how to do the lacrosse part, now they have to figure out how to be the leaders of the team and I think they certainly made a step [toward that]."
Daniel said players who might have been overlooked in the past now have a chance to step up.
"We had a great amount of talent last year, but that talent kind of shadowed a lot of underlying talent," he said. "For example, Austin and I, we're a duo that's been kind of been overlooked for a while and now we have the chance to [lead]."
Daniel and Henry have both signed with VMI.
While Daniel, Henry, Krug and others transition into leadership roles, Connolly has an opportunity to be a young difference-maker. The freshman produced a hat trick in his first varsity game, including Robinson's first goal of the season.
"People need to be ready for him, honestly," Daniel said, "because that kid, he's one of the best players I've ever played with."
Curran praised Connolly.
"I've known Declan since he was in elementary school and coached him in some offseason stuff," Curran said. "He's got a really good head on his shoulders. He knows he's good, but he recognizes that this is a team game and he's always asking questions and he's always learning."
Robinson's next four games are at home, starting with a contest against Yorktown at 4 p.m. on Saturday, March 19. The Rams will host Northern at 2 p.m. on Monday, Langley at noon on Wednesday, March 23, and St. Ignatius (Illinois) at 7:15 p.m. on March 29.
Robinson will travel to face Chantilly at 7:15 p.m. on April 1 in a rematch of last year's Conference 5, 6A North region and state championship games.
"Every year is state championship ­­­ that's what we want," Henry said. "We'll work [through] whatever we have to to get that."