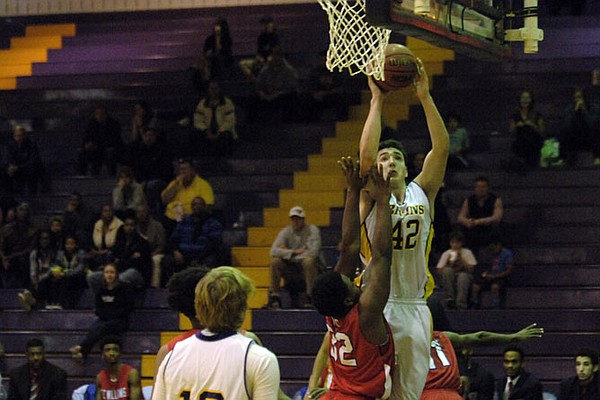 Wednesday, December 16, 2015
The undefeated Lake Braddock boys' basketball team trailed T.C. Williams entering the fourth quarter of Tuesday's Conference 7 opener.
The Titans' lead didn't last for long, however, as the Bruins employed a strategy for which undersized TC simply had no answer.
"They fed the beast," Lake Braddock head coach Brian Metress said.
James Butler scored 18 of his career-high 46 points in the fourth quarter and the Bruins improved to 5-0 overall and 1-0 in the conference with an 83-77 victory at Lake Braddock Secondary School.
Butler, a 6-foot-8 senior and Navy signee, was unstoppable in the paint. His three-point play with 7:32 remaining in the fourth quarter gave Lake Braddock a 61-60 lead it would not relinquish.
"My teammates," Butler said, "did a great job of feeding me the ball."
T.C. Williams' tallest player, 6-foot-5 center Andrew Tovsky, fouled out with 6:30 remaining and Lake Braddock leading 64-62. Butler, who surpassed his previous career-high of 35 points, continued to capitalize on the Titans' lack of size, scoring in the post and on putbacks.
"TC, once the big boy got in foul trouble and they just tried to surround [Butler] a little bit, and it was tough," Metress said. "I thought we ran offense well, we threw passes to him and we got him in all sorts of different matchups."
After a jumper by T.C. Williams guard Jordan Jones cut Lake Braddock's lead to 68-66 with 5:08 remaining, Butler scored Lake Braddock's next 11 points.
Butler's final field goal gave the Bruins a 79-72 advantage with 1:15 remaining.
"If I can go in and get a couple easy buckets or quick buckets for the team, I'm going to do it," Butler said. "We're 1­0 in the conference now and that's huge."
Butler scored four points in the first quarter. He had 20 points at halftime and 28 at the end of the third quarter.
"Rough start," Butler said. "I was almost ... lethargic in the first quarter, I'd say, but I got it going in the second and third."
In the second half, Butler was aggressive in the paint.
"It's his senior year and he wants to win," Metress said. "I think what he started thinking was, 'Hey, if they're going to throw me the ball, I'm going to finish at the rim.' Early in the game, he was kind of stepping back and shooting some and going with the fade-away. Basically, what happened was he wasn't going to bail the defense out. He was just going to put his elbow in the guy's nose and go right to the rim."
Corey Pelham scored 15 points for Lake Braddock, including a trio of 3-pointers. Peyton Bishop added 11.
Lake Braddock will host Woodson at 7:30 p.m. on Friday, Dec. 18.