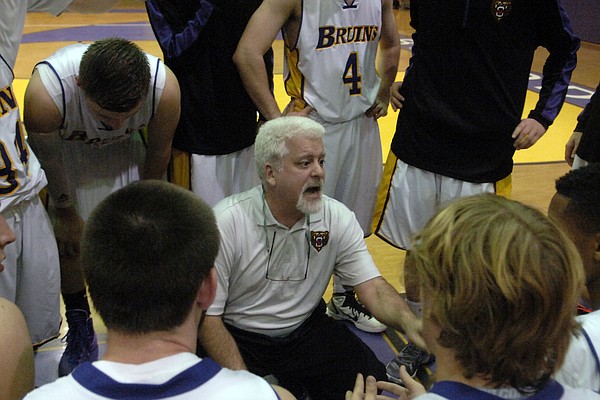 Saturday, December 12, 2015
Lake Braddock freshman guard Quentin James felt nervous prior to Friday's matchup with Robinson --- his first taste of the Burke rivalry.
Near the end of the first quarter, James unloaded those nerves on the Rams in the form of a personal 6-0 run.
James' trio of buckets helped Lake Braddock close the opening quarter on 14-1 run. The Bruins led by at least nine points for the remainder of the contest and improved to 4-0 with a 66-54 victory at Lake Braddock Secondary School.
James, a starter for the Bruins, finished as the team's second-leading scorer with 12 points.
"He's a player, now," Lake Braddock head coach Brian Metress said. "He gets after you defensively and he's in the passing lanes. I thought we rattled them early with the pressure. We just rattled them. And they really, early, didn't look like they wanted to dribble. It was sort of like chum in the water --- we were going after every pass."
Lake Braddock forced nine turnovers in the first quarter and 26 for the game. After back-to-back buckets by James late in the first quarter, the freshman guard came up with a steal and finished with a layup, extending the Bruins' lead to 14 points. Lake Braddock led 26-10 at the end of the opening quarter.
"It felt amazing," James said about scoring six straight points. "It was my first time playing in the big cross-town rivalry as a freshman so, I was a little nervous …"
Has James had to prove to Lake Braddock coaches that he belongs on the varsity level?
"We've known him since his seventh, eighth grade yea," Metress said. "He's a good player. He's confident, he expects to play well, we expect him to play well. We don't treat him like a freshman and we think he's got a bright future here at Lake Braddock. … And the older guys, the captains, like [senior forward] Peyton Bishop and [senior center] James Butler, the guys who have been through the wars before, they embrace him as an important part of our team."
James' final field goal came with less than a minute remaining in the fourth quarter, giving Lake Braddock a 65-52 advantage.
"He's really stepped up," Butler said. "You can see he's feeling more confidence as he plays. He had a great game tonight --- sort of a breakout game for him."
While James gave the Bruins a spark, Butler took care of business as usual in the paint. The 6-foot-8 Navy signee scored a game-high 22 points, including 12 in the first quarter, and grabbed five rebounds.
"… I thought he was a beast in there," Metress said.
Metress said he's asking Butler to take on a leadership role this year.
"As a freshman, he was a young kid that was up on the varsity and he played limited minutes," Metress said. "As a sophomore, he was an integral part --- a sixth man --- of a team that went to the state final four. Last year, he was the fourth- or fifth-leading scorer in the metropolitan area. This year, we've asked him to do something that doesn't have anything to do with basketball: we asked him to lead and that's what he's doing."
Junior guard Corey Pelham scored 11 points for Lake Braddock, including a pair of 3-pointers.
Avi Silberman led Robinson with 14.
Lake Braddock opens Conference 7 play on Tuesday with a home game against T.C. Williams at 7:30 p.m. The Bruins will host Woodson on Friday.
Robinson (2-4) will travel to face Stone Bridge at 7:30 p.m. on Friday, Dec. 18.